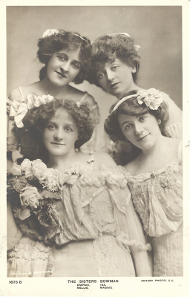 Isabella Bowman, known as "Isa", was born on 2 September 1874, the eldest of the five children of organist, Charles Bowman and his wife Helen.
Charles Dodgson first met Isa in 1886 when she had small part (as Oyster Ghost) in the stage production of Alice in Wonderland. On 27 September 1887 Dodgson met Isa in London and spent the day with her before returning her to the family home in Stratford. This was the start of a close and lasting friendship with Isa and the rest of her family, including her three sisters: Nellie, Maggie and Empsie.
The following year, Dodgson was in discussion with Henry Savile Clarke who wrote and produced the original stage version of Alice about the possibility of a revival of the production. Dodgson had hoped that either Isa Bowman or Vera Beringer, another child-friend, might play the part of Alice. A week later, on Wednesday, 11 July 1888, Dodgson returned to London to collect Isa for her visit to Oxford which was to last until Monday, 16 July 1888. Ultimately, Isa was given the role of Alice for the revival, but it is unknown at which point she was aware of the decision. However, it is against this background, that her visit to Oxford took place, which, incidentally began with a trip to the theatre in London to see Vera Beringer perform as Little Lord Fauntleroy. During the visit, Dodgson kept the small manuscript diary, titled Isa's Visit to Oxford, which he completed on the final evening and presented to her.
Dodgson's friendship with Isa was clearly very close and she spent considerable time with him, particularly during his visits to Eastbourne. In 1899, a year after Dodgson's death she published The Story of Lewis Carroll (see bibliography for details), a loose form of biography largely based on reminscences of her time with him. The book reproduces, for the first time, the manuscript of Isa's Visit to Oxford.
This section of Lewis Carroll Resources presents the full text of the diary in facsimile and an annotated transcription under the menu heading "Isa's Visit".
In 1889 Isa's sister, Maggie, was appearing in the play Bootles' Baby in Oxford. During her visit, Dodgson spent most of two days escorting her around the city, showing her numerous attractions and features, many of which had also been included in Isa's visit. To commemorate her visit, Dodgson wrote the poem 'Maggie's Visit to Oxford', which was first published in Isa Bowman's The Story of Lewis Carroll, pages 104-109. The full poem, with notes, is included in this website under the menu heading "Maggie's Visit'.
Like all the resources on this website, this section is constantly being extended, new notes added, etc. Corrections and additional information from visitors to the site are always welcome and will be credited. We would particularly welcome information which can be used in the annotations of the text.
We acknowledge the assistance of August Imholtz, Clare Imholtz, Charlie Lovett, Molly Martin, Yoshiyuku Momma,
Alexandre Révérend, Catherine Richards and Paul Richards in the development of this resource.